HISTORIES TOLD IN PLACES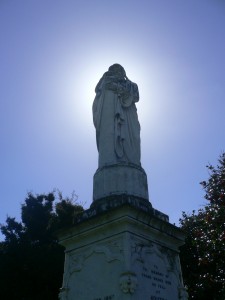 Interesting books have recently been published listing objects that, when considered together, represent the telling of a particular history.
Examples of works in this vein are Neil MacGregor's A History of the World in 100 Objects (Penguin, London, 2008) and Gary Sheffield's The First World War in 100 Objects (Andre Deutsch, London, 2013).
Depicting the New Zealand Wars in 'objects' is interesting. However, our focus will instead be places. Over the next short while, we will be listing some of the sites which might comprise '100 places' though of course the list is probably very long and is certainly subjective.
 Place No 1 – The Flagpole on Maiki Hill, Kororareka
This flagpole was famously, or infamously, cut down by Hone Heke Pokai as a protest against Crown interference in things Māori, which is not what Māori had expected after signing the Treaty of Waitangi in 1840. To read more about these events, click here – # Object No 1 – The Flagpole on Maiki Hill.   
Place No 2 – The Memorial Statue, Moutoa Gardens, Whanganui