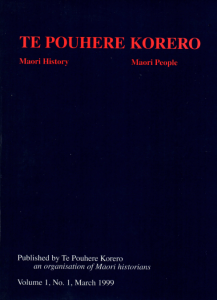 In 1992, a small group of Māori interested in Māori history established Te Pouhere Korero, which functioned as a network of Māori historians, or at least, Māori interested in history.
At that time, there was no dedicated organisation catering for Māori who were interested in history, be they students, academics, librarians, museum workers, iwi researchers and the like.
An inaugural meeting was held in late September 1992 at Māori Studies, Massey University. This gathering attracted a surprisingly large number of Māori writers, authors and scholars, with many notable apologies also given.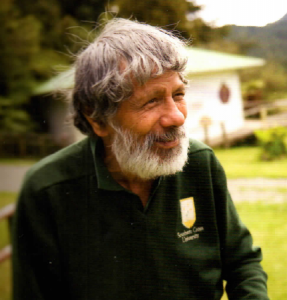 On the invitation of Joe Pere (left)and Rose Pere, a further hui was held at Manutuke Marae, near Gisborne, in late November 1992. Here, Te Pouhere Korero was formally established. Dr Manuka Henare (now of Auckland University) was appointed our inaugural Chairperson.
Many Māori interested in history were involved, including Te Ahukaramu Charles Royal, Tania Rei, Aroha Harris, Monty Soutar and Danny Keenan.
Our leading light thō was undoubtedly Dr Miria Simpson (right, below) who held sway over all of our proceedings, providing support, inspiration and encouragement. Sadly, Miria passed away in 2002. Our Huia Histories of Māori, published by Huia Publishers, Wellington, in 2011, was dedicated to Miria.
Perhaps the highlight of those early days was a gathering where Māori historians met with Pākehā historians over 3 days, discussing at length what 'Māori history' was, or might be, vis-a-vis mainstream New Zealand history.
During that conference, looking around the room, you could say it certainly was a 'who's who' of New Zealand history, at least, of Māori-Pākehā history.
Thereafter, regular hui were convened around the country, attended by a small yet dedicated group of Māori interested in presenting papers on further developing the notion of 'Māori history' as a legitimate focus of academic study – strange as it may seem today.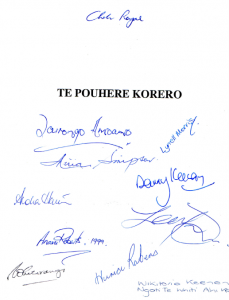 Much later, however, not long after Miria passed away, personnel changes in Te Pouhere, especially from Māori Studies Departments, saw Te Pouhere's focus move markedly away from dedicated 'Māori history' towards an eclectic amalgam of Māori Studies / Māori Language /Māori Social Sciences/ Māori Literary Studies/Indigenous studies.
As a result, Te Pouhere's  original focus on the 'discipline of Māori history' was subsumed by Māori more interested in the social sciences, where ' Māori history' had an uncertain place.
Danny presented a paper to this effect at a Māori Social Science conference in 2008, where he suggested that the discipline of 'history', much less 'Māori history', were not 'social sciences'.
The first two Te Pouhere Korero Journals were produced in 1999 and 2002. The contents of these two journals will be uploaded here shortly.