There is a really stunning epitaph inscribed on the memorial to the Japanese soldiers who died during a prison riot just outside of Featherston, in the Wairarapa – 'Behold the summer grass, all that remains of the dreams of warriors'. The memorial commemorates the 64 Japanese prisoners who were shot during a prison riot on 22 February 1943, along with 94 who were wounded (of the 275 prisoners).
#
Remembering Our Own Dead
There isn't much else either for Māori or Pākehā, around the hills of New Zealand, where 3000 or so died in our own wars. Here is a photo (below) of the rotting sign at Te Kohia, lower Waitara Road, Waitara, where the 'great civil wars of the 1860s began', says one J Belich. We have been pointing to this issue for awhile now, but  there doesn't seem to be much that can be done at the moment because the will amongst most New Zealanders just isn't there.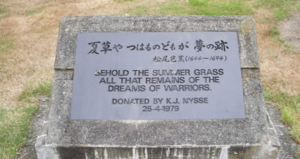 Also, the RSA is too strong – their purpose is to promote the memory of our overseas dead, not those who died on our own battlefields. The myth that 'we came of age on the beaches of Gallipoli, where our boys spilled their blood ..' is also very strong – we hear it every ANZAC day.
A New Land Wars Veterans Association?
Perhaps we need a new organisation to speak for our own Land Wars veterans – Māori and Pākehā – whose passing goes largely forgotten, since the RSA is not interested.
We shouldn't be too surprised at the RSA stance thō on the Land Wars. To acknowledge that men and women who died during our own wars is quite a subversive idea – it disturbs the popular notion that' we came of age on the beaches of Gallipoli, fighting for Empire' – when, in reality, we came of age as a troubled nation on our own battlefields. I'm not sure the RSA could live with that.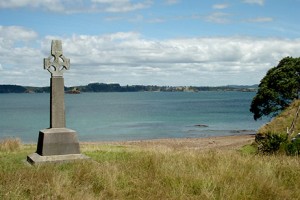 Incidentally, if you are trying to find the Japanese memorial, it's across the road from the actual prison site – it's not actually on-site because the RSA complained about memorialising the Japanese ..
Remembering all our war dead, whether overseas or local, shouldn't be that hard ..
If you'd like to read more about our New Zealand Wars dead, click here – Our Wars Dead.