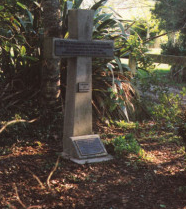 Photograph shows one of the many sites of battle on the New Zealand landscape.
The cross marks the site of No 3 Redoubt, Waitara, which was defended by the British Army against a midnight attack by Māori, on 23 January 1861.  Fifty Māori died during the ill-fated assault, with 5 British Regulars. The site now stands on private land, thō the owners do normally allow access.
Remembering sites like this constitutes an important process of 'remembering'.
See here for further on this, focussing mainly overseas  – Memories and History.