End of the 'Hau Hau Wars'
10 June 1865   Skirmish at Mangaone leaves six British Regulars dead. In the days following, fighting also occurs at Te Tapiri and Te Horo.
3 August – 18 August 1865   Skirmishing continues to Pakairomiromi, Te Mawhai, Pukepapa and Tahutahu.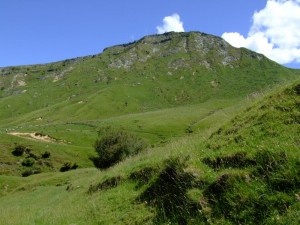 8 September – 4 October   Conflicts continue at and around Opotiki, extending to Hungahunga Toroa, Te Teko, Koingo, Waerenga a Hika and Omaru Hakeke, near Wairoa.
1 February – mid April 1866   Skirmishes continue in the Waioeka Gorge, Kairakau and Otara Gorge, near Opotiki.
18 January – 1 September  1867  Fighting continues through Tauranga to Opotiki and Rotorua, in centers such as Te Irihanga, Whakamaramara, Taumata, and Te Kaki (all near Tauranga); Te Koutou and Puraku (near Rotorua) to Waioeka and Waimana, south of Opotiki.
Te Kooti Rikirangi's Campaign 
20 July – 8 August Te Kooti Rikirangi's campaign begins with victory at Paparatu,  with skirmishing following at Te Koneke,and Raukituri.
10 November 1868   Fighting at Makaretu which leaves eight Armed Constabulary dead with twenty injured. Eighteen Māori also die.
9 November 1868   Te Kooti attacks Matawhero during the night, killing thirty three Pākehā and thirty seven Māori in one of the most controversial happenings of the entire war period.
1 January – 5 January 1869   Siege of Ngatapa, where Te Kooti Rikirangi and his people are seemingly trapped on top of an enormous headland. Death toll during the siege is very high – 136 Māori, with eleven Armed Constabulary also dead.
1 March – 12 April 1869   Te Kooti and followers escaped from Ngatata by scaling down a sheer cliff on the leeward side of the enormous headland. However, they were vigorously persued into the bush by Ropata Wahawaha and his Ngāti Porou war parties, executing the fleeing Māori as they were apprehended.
Te Kooti escaped however and, for the next ten months, was pursued, skirmishing as he went in places like Ohiwa, Te Poronu, Rauporoa, Otautu and Mohaka where 60 Armed Constabulary were killed (as were ten Māori).
6 May – 14 May 1869   Te Kooti is pursued through the Urewera Country, skirmishing as he retreats.
7 June 1869   Skirmish an Opepe which leaves nine Constabulary dead.
3 October 1869   Battle of Te Porere, where Te Kooti seeks to defend a fixed position against oncoming Armed Constabulary assisted by Māori war parties. Te Porere is assaulted and Te Kooti forced to flee, leaving 37 of his followers dead.
24 January 1870 – 14 February 1872   the last years of the Te Kooti campaign, with Te Kooti pursued relentlessly and unable to take refuge in any place for very long. The final encounter is fought at Mangaone on 14 February 1872. Thereafter, Te Kooti crosses over into the King Country and refuge.
To see a map of the East Coast Conflicts, alongside the other fields of engagement that together comprised the 'New Zealand Wars', click here – # Map of Conflicts.