The Wairau confrontation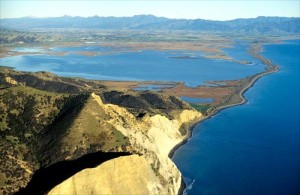 In 1843, forty-nine armed settlers from Nelson travelled east across to Wairau and attempted to enforce a disputed sale against local Maori. The local Maori were from the Ngāti Toa tribe. They were led by Te Rauparaha, and his fighting chief and nephew Te Rangihaeta. These days, given what we know about the earlier tribal wars fought by Te Rauparaha, it is amazing that settlers would want to tangle with him and his people.
An Issue of Land
The land at issue was under investigation by a Land Claims Commissioner, William Spain. The land had earlier been 'purchased' by a whaling ship Captain, but, as other whalers had pointed out, the sale was a highly suspect one. However, the deed of sale was later transferred to the New Zealand Company. It was then cited by the Company as a basis for a claim lodged for possession of the Wairau Plains. This claim was resisted by Ngati Toa, who themselves laid claim, under Maori custom law, as 'take raupatu', land taken by conquest.
The settlers might have been better advised to await Spain's investgations and judicial decision, as Maori wanted to do, rather than charge in and attempt to take on Te Rauparaha, a veteran warrior of no mean ability. But pressure was on to expand the Nelson holdings. In March 1843, surveyors appeared on the Plains. Maori resisted the surveyors, and a hut was burned to the ground. This act, more than any, precipitated the attempt made from Nelson to enforce the surveys and take possession of the Plains.
Confrontation
The party that travelled out from Nelson was led by Police Magistrate HA Thompson and Captain Arthur Wakefield. Arthur was one of the four Wakefield brothers (Edward Gibbon, William and Daniel were the others. Another Wakefield, Edward Jerningham was Edward Gibbon's son). Arthur was the youngest and by some accounts the best regarded.
On June 17, 1843, Te Rauparaha and his people were confronted near the site of a small encampment and cultivations beside the Tuamarina Stream. A demand was made that he surrender. Te Rauparaha refused – one cannot imagine that he would do anything else. An attempt to arrest him turned into a nasty skirmish with many shots fired.
Fifteen Maori and settlers were killed in the initial engagement. Amongst those killed were Te Rangihaeta's wife, Te Rongo. Those Europeans who survived the initial skirmish – about thirty – fled the scene. Eleven were apprehended in flight – it is said they surrendered – and they were executed, as a customary act of revenge (utu) for those Maori earlier killed. Amongst those executed were Thompson and Wakefield.
Aftermath
Settlers in Nelson and Wellington were outraged. The issues that had precipitated the confrontation were soon lost sight of. The new Governor, Robert FitzRoy, contemplated a military response against Ngati Toa. This was strongly urged upon him by the outraged settlers. However, on reflection, FitzRoy concluded that the settlers had been wrong in attempting to enforce a claim on the Wairau, a claim for which no legal basis existed.
This confrontation at Wairau is regarded by some historians as the first engagement of the New Zealand Wars. Effectively, it was a confrontation between a group of Nelson settlers and local Maori. According to James Belich, at this time, Maori always 'backed themselves against any armed posse of settlers.' However, the British Army was another matter, presenting Maori with a complex raft of new challenges; and this came soon enough, in the far north, in 1845, with the outbreak of the Northern War.
For more on the conflict at Wairau, click here # Wairau Confrontation.
Further reading: Graham Hucker, Glimpses of New Zealand in the nineteenth century, Heinemann Education / Reed Books, Auckland, 1992, pp. 26-32; Edgar Holt, 'First Blood' in The Strangest War. The Story of the Maori Wars 1860-1872, London, 1962, pp.67-76.