The Wellington – Hutt War 1846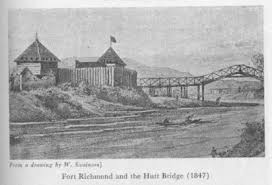 Continuing confrontations over disputed lands in the Hutt Valley led to conflict and war between Ngati Toa, settlers and the British Army. Ngati Toa fell back to the Pauatahanui inlet, then further east to Horokiwi, pursued by the British, before escaping north into refuge.
For further details, click here – # The Wellington-Hutt War
Further reading: Ryan and Parham, 'Trouble Moves South' in The Colonial New Zealand Wars, pp. 33-37.