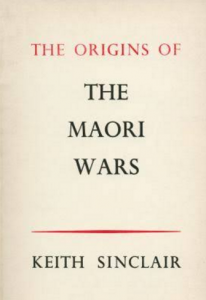 Many historians have written about the New Zealand wars; and most have done a fine job of their research and publications. Professor Keith Sinclair is a prime example (see right).
The most prominent historian of the wars is undoubtedly Professor James Belich, whose books and TV series especially have received substantial acclaim. Other important historians include Alan Ward, Keith Sorrenson, Tony Simpson and, more recently, Ron Crosby. The New Zealand Wars literature, as a result, is quite extensive.
You can read about some of these authors and publications, and how they have contributed to a wars historiography, by clicking here – writing about the wars.
Māori Historians
However, the number of Māori historians who have written about the wars is quite limited. Perhaps best known amongst Māori writers of the wars is Buddy Mikaere (below, right), a former Director of the Waitangi Tribunal.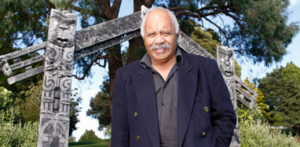 Buddy is possibly best know for his book Te Maiharoa and the Promised Land, published in 1997, thō of course he has done heaps since then.
Other Māori of note include filmmaker and historian Brad Haami (below, left) and tribal historian Tony Sole. Brad has won countless awards and is possibly best known for two of his books, Golan Maaka: Māori Doctor, which was a personal memoir, and Love Stories: Mate Tau.  Brad has also produced documentaries for TV. Tony Sole is well-known for his hugely-detailed tribal history, Ngāti Ruanui.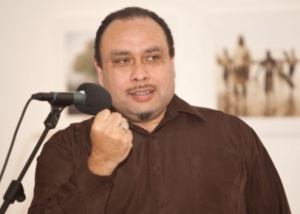 Monty Soutar (bottom, right) is also well established as a wars historian. Monty is perhaps better known for his work on Māori and the Second World War, but he has written about the 19th century wars featuring his Ngāti Porou people.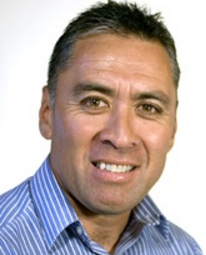 Monty's PhD thesis focussed on Ngāti Porou rangatira Ropata Wahawaha, and his war against Pai Marire adherents who encroached into the East Coast. As Monty argues, these were significant campaigns that were essential to the stabilising of the Coast.
Monty is possibly best known for his book Ngā Tamatoa: The Price of Citizenship. C Company 28 (Māori) Battalion 1939-1945 (published 2008). This huge, award-winning book tells the significant history of Māori soldiers fighting in Europe for the Māori Battalion, during World War Two.
Danny Keenan (who is the writer of this website) has also written about the New Zealand Wars. Danny's field of research is political history, especially Māori and the State in the 19th century, of which the wars were of course an integral part.
Danny taught the New Zealand Wars at Massey University between 1995 and 2005, with Dr Hazel Riseborough and Major (and now Dr) Richard Taylor, who was at that time seconded to Massey from the New Zealand Army. Hazel is best known for her acclaimed book on Parihaka – Days of Darkness. Richard's fine PhD thesis examined the Taranaki and Waikato campaigns from the perspective of military logistics.
Danny's PhD thesis examined the Native Land Court's activities in Taranaki during the 1860s, in the wake of the land confiscations which impacted so heavily upon Taranaki Māori.  To see some of Danny's publications, see here – published works.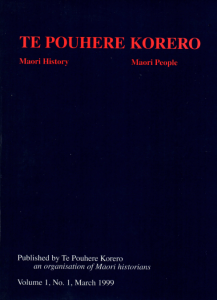 Te Pouhere Korero- 25 years this year  
Back in 1992, Danny, Monty, Brad, Tony and Buddy were all involved in setting up Te Pouhere Korero, which functioned as a network of Māori historians, or at least, Māori interested in history.
An inaugural meeting was held in late September 1992 at Māori Studies, Massey University, a gathering which attracted a surprisingly large number of Māori writers, authors and scholars, with many notable apologies also given.
Thereafter, a hui was held at Manutuke Marae, near Gisborne, in later November 1992, when Te Pouhere Korero was formally established. Dr Manuka Henare (now of Auckland University) was appointed our inaugural Chairperson.
Many prominent Māori interested in history were also involved, like Te Ahukaramu Charles Royal, Te Maire Tau, Tania Rei and Aroha Harris, along with many others.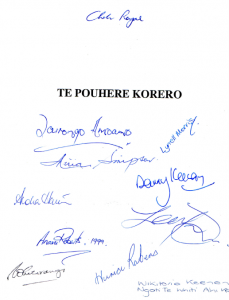 Our leading light thō was undoubtedly Dr Miria Simpson (left, above), who held sway over all of our proceedings, providing support, inspiration and encouragement. Sadly, Miria passed away in 2002. Our Huia Histories of Māori, published by Huia Publishers, Wellington, in 2011, was dedicated to Miria.
See here for copies of the first two Te Pouhere Korero Journals produced in 1999 and 2002 (scroll down the page). The contents of these two journals will be uploaded here shortly.
Te Pouhere attains its 25th birthday this year, no small feat.