HISTORIES TOLD IN OBJECTS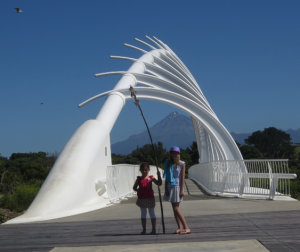 Interesting books have recently been published listing objects that, when considered together, represent the telling of a particular history.
Examples of works in this vein are Neil MacGregor's A History of the World in 100 Objects (Penguin, London, 2008) and Gary Sheffield's The First World War in 100 Objects (Andre Deutsch, London, 2013).
Depicting the New Zealand Wars in 'objects' is interesting. Over the next short while, we will be listing some 'items' which might comprise '100 objects' though of course the list is probably very long and is certainly subjective.
#
Object No 1 –

The Flagpole on Maiki Hill, Russell, formerly Kororareka.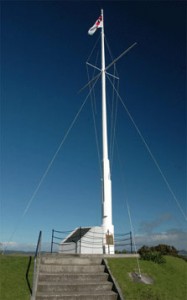 The flagpole on Maiki Hill was very famously cut down four times, in the end precipitating the attack on Kororareka that, some argue, began the New Zealand Wars.
The first felling occurred on 8 July 1844, after 3 days of uproar, disobedience and looting in the small frontier town.  Though credited to Hone Heke Pokai, the flagpole was actually cut down by Haratua, chief of Pakaraka.  The second felling occurred 6 months later, on 10 January 1845 when trouble and dissension amongst Māori returned to the area. An American trader Henry Green Smith was blamed for inciting this act of defiance against the British flag.
This second felling moved Rev Henry Williams to advise that the 'flag should not be flaunted in the face of the natives', lest it be cut down again, which it was, on 19 January 1845. Two companies of the 58th British Army Regiment were immediately called for, from their base in Sydney. But they arrived too late, on 28 April 1845.
The fourth and final felling of the flagstaff had occurred earlier, at 4am on 11 March 1845, followed by a concerted attack on Kororareka by Hone Heke Pokai and allies, including Kawati. This attack, and subsequent sacking of the town, precipitated the outbreak, some argue, of the New Zealand Wars.
#
To read more on the Northern War, click here – # The Northern War. To read Danny's essay on Hone Heke Pokai, as published in the Mana Magazine, No 51, 2003, pp. 83-86, click here – # Essay on Hone Heke.  To see a map showing the location of the Northern Wars, click here – # Map of Conflicts.  
Further Reading, James Cowan, The New Zealand Wars A History of the Māori Campaigns and Pioneering Period, Volume 1 1845-64, Government Printer, Wellington, 1922, pp. 14-33.