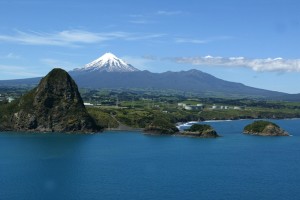 New Plymouth is the traditional home of the Ngāti Te Whiti hapū, whose boundaries extend from the Herekawe Stream in the south (in the centre of the photo, left) to the far bank of the Waiwakaiho River in the north (where family are standing, in photo, right).
The boundary also extends east to Mount Taranaki. The Māori name for New Plymouth is Ngāmotu ('the islands').
A brief history of our hapū will be uploaded here shortly.