Final screen lecture tonight – Tuesday evening November 28 –  featuring pre-eminent wars scholar, Professor Jamie Belich, with Dr Hirini Kaa, young scholar and TV presenter from Ngāti Porou.
#
Acclaimed Māori filmmaker Tainui Stephens has organised a seminar series focusing on the New Zealand Wars, being held in Otaki.
The series began on 28 November – New Zealand Wars Day – with Tainui presenting and discussing his acclaimed TV Series on the wars, which featured Prof Jamie Belich.
Thereafter, on each Tuesday evening for the following 5 weeks, a panel of Māori historians and scholars will discuss each episode in turn. These discussions should be very interesting, with a wide variety of Māori perspectives on the conflicts being presented.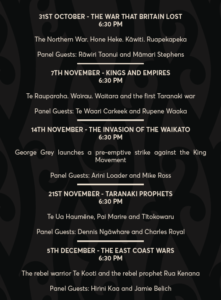 Plse click on the poster (right) if you'd like to see more info as to who the awesome speakers will be – see also left for the programme line up. These screen lectures extend into late November.
Congratulations to Tainui for this awesome initiative, which  coincides with the introduction of the New Zealand Wars Day, for the first time this year.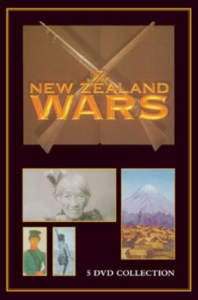 The date of the New Zealand Wars day – 28 October – was determined by a meeting of Māori kaumātua / elders last year.
The date was chosen because it represents the date of the signing of the Declaration of Independence in 1835.
Tainui's screen lecture series is one of several different initiatives being held around New Zealand to commemorate this important day on our historical calendar.
Incidentally, if you're interested in the topic of the New Zealand Wars on film, click here for more on this interesting topic : NZ Wars on Film.
Over the years, the wars have been featured in a number of movies, TV dramas and documentaries, though, these days, the topic isn't attracting much attention from film makers.