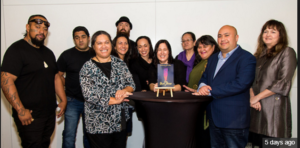 Congratulations to this year's awesome winners of the Pikihuia Māori Literature Awards.
The 2017 Pikihuia Awards were announced at a function featuring this year's finalists, on Saturday 9 September 2017, at the Wharewaaka Convention Centre in Wellington.
Every two years, the Pikihuia Awards are arranged to acknowldge young and exisiting Māori writers. They also encourage new and diverse Māori viewpoints and writing in both English and Māori.
The Pikihuia Awards comprise six creative fiction categories,  including short stories in English and Māori, film screenplays, novel extracts and especiallty new writing by secondary school students.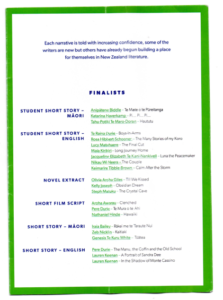 All of the Pikihuia finalists deserve acknowledging for their awesome creative work. It's such a shame that the mainstream media made no mention of these awards. Acknowledgement of their awesome creative talents was left to the Scoop website and Māori media, especially Radio Waatea and Māori Television.
Whilst that coverage was excellent, it's such a shame – these awesome writers, like Māori writers and artists at large, deserve a wider acknowledgment and appreciation which is not easy to come by. For example, this years Ockham NZ Literature Awards featured no Māori finalists, and the Whanganui Literary Festival this year includes no Māori writers.
But the good news is, this year's finalists have had their awesome writings published in Huia Short Stories 12 Contemporary Māori Fiction, published by Huia Publishers, Wellington, 2017.
The Pikihuia Awards are sponsored by the Māori Literature Trust, Creative New Zealand, the New Zealand Film Commission, Xero Digital Services, Te Puni Kokiri and Huia Publishers.
The Trust is chaired by Māori publisher Robyn Bargh and includes Patricia Grace, Sir Hirini Mead, Tilly Reedy, Whiti Hereake and John Huria.
Past winners of Pikihuia Awards include acclaimed Māori writers like Tina Makareti, Ana Morley, Paula Morris and James George.
Tina (for example) has gone on the great things of course, having published her acclaimed literary memoir, based on her PhD, Where the Rekohu Bone Sings in 2014, and, this year, Black Marks on the White Page with the doyen of Māori literature, Witi Ihimaera.