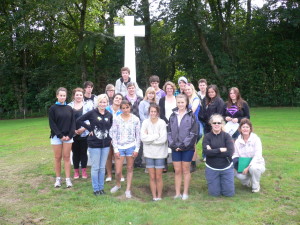 New Zealand possess countless historic sites which commemorate past conflicts fought on our own soil. The cross on the site of the Te Ngutu O Te Manu battle site (right), near Hawera, is a good example. Our hope it to eventually show all of these – or most of them – on this site.
However, we also have other sites and memorials around our cities, towns and hills which remind us of other losses either incurred in New Zealand, or overseas. Some of these will be shown here.
Memorial to Japanese War Dead
There is a really stunning epitaph inscribed on the memorial to the Japanese soldiers who died during a prison riot just outside of Featherston, in the Wairarapa – 'Behold the summer grass, all that remains of the dreams of warriors'. 
The memorial commemorates the 64 Japanese prisoners who were shot during a prison riot on 22 February 1943, along with 94 who were wounded (of the 275 prisoners).
If you are ever trying to find the Japanese memorial, it's across the road from the actual prison site – it's not actually on-site because (from memory) the RSA complained about memorialising the Japanese. Remembering all our war dead, whether overseas or local, shouldn't be that hard.
If you'd like to read more about our New Zealand Wars dead, click here – Our Wars Dead.