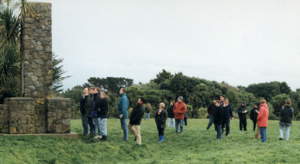 Prominent Māori historians like Dr Malcolm Mulholland of Massey University are calling for the New Zealand Wars to be taught in schools as a compulsory subject. You can read Malcolm's comments on the issue here – Malcolm's Comments.
We think the idea makes really good sense.
Those of us who used to teach the New Zealand Lands paper at Massey in the 1990s to about 2005 remember well the responses of students to the material imparted – always positive, especially on our field trips around Taranaki. Understanding why the wars happened, and with what consequences, especially for Māori, will do wonders for our appreciation of our shared past.