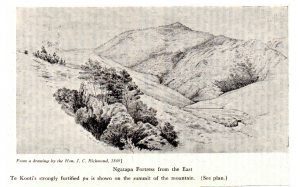 It's interesting to compare historic sites as they once existed, to see how they appear today. This is because it enables us to observe how much the sites have actually changed, over time – or, how much they remain the same.
#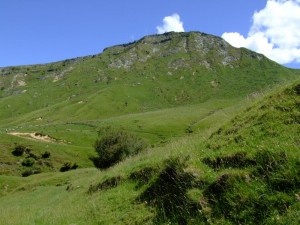 This page illustrates some of the New Zealand Wars sites – then and now.
The siege of Ngatapa Pā
See images above, left and right, of the site of the Ngatapa battle, then and now. This engagement was fought between January 1-5, 1869, and involved Te Kooti's people being held under siege by East Coast Māori. To read more of the East Coast wars, of which Ngatapa was a part, see here – East Coast Wars.
Julius Volkner was a minister of the Lutheran Church based at Opotiki, near Whakatane.
On 2 March 1865 , Volkner was hanged by Māori, from a tree just outside his church. The Māori were members of Hau Hau war parties, who were raiding in the area at the time. The accused Volkner of being a spy, and meted out this summary and tragic punishment.
Today, Volkner lies buried behind his church, which now stands in the main street of Opotiki. The Māori involved in the hangings were later apprehended by the Armed Constabulary and most were themselves later hanged in Auckland.