Land Confiscations 
The government also moved to effect wholesale confiscations of land from Māori deemed to have 'borne arms against the Crown'.
Land was 'confiscated' by the government under the New Zealand Settlements Act 1863 which enabled the Governor to declare lands to be forfeit by Māori for having participated in the wars.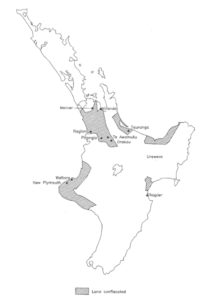 If you were Māori, and felt aggrieved at your losses, you could appear before a special Compensation Court and argue your case for the return of your land.
However, the Compensation Court soon seen to be wholly inadequate for the task of dealing with Māori and their lands fairly.