'Māori history' is many things to many people, no less to Māori. Māori history is – or can be – framed by such customary devices as whakapapa, or genealogy. Land is also an important frame of reference through which Māori might view the past – the land, and what happened on the land, such as warfare.
#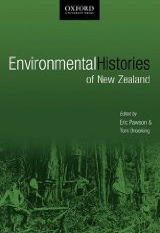 Some years ago, Danny wrote a chapter in this book, arguing how Māori views of the past (history) were in extricably 'bound to the land'. In order to illustrate this point, Danny anchored his arguments, so to speak, in the Māori customary estate of his home area, which is Taranaki.
If Māori are to mount these kinds of arguments, he argues, then Māori must write of their own home areas, bring their own traditions and histories to bear on their work.
Danny's chapter appears in this book (right) – Environmental Histories of New Zealand (eds) Tom Brooking and Eric Pawson, Oxford University Press, Melbourne, Victoria, 2002.
The chapter is 'Bound to the Land: Māori Retention and Assertion of Land and Identity', pp. 246 – 260. You can read the chapter by clicking here – Bound to the Land.
The chapter argues that Māori history is essentially framed by cultural factors, one of which of course – perhaps the most import –  is the land.