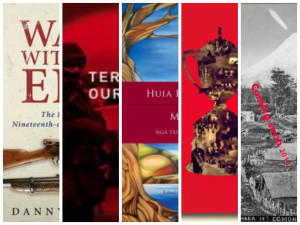 This section contains details of Danny's published work since about the mid 1990s. Most of this material (but not all) focuses on 19th century Maori/Crown relations. More recently, Danny has published about Māori in the 20th century, but this is an area he sees himself as being not particularly knowledgeable.
In some cases, copies of articles and newspaper items can be accessed by clicking on the respective cover images provided.
More copies of articles will be added over the next short while. Our hope is that, eventually, everything ever published by Danny will be available to read directly on this site.
#
To see details of Danny's latest book – Te Whiti O Rongomai and the Resistance of Parihaka  (Huia Publishers, Wellington, 2015) – plse click here – TE WHITI BIOGRAPHY. 
Full citations of all Danny's published material is provided with each image; however, these can also be obtained from Danny's bibliography.
Just announced – Danny's book on Te Whiti O Rongomai has reached the finals of the 2016 Māori Book Awards. The winners are to be announced at  a flash awards dinner, to be held in Auckland on 3 October. You can read more about these awards here –  Massey Book Awards . See also interesting item from Radio Waatea, highlighting the work of the doyen of Māori fiction, Patricia Grace – Radio Waatea and Awards.