Young Jaydn standing on Ruapekapeka battle site, Northland – photo by our website photographer (and Jaydn's Dad), Bryn Thomas. To see more of Bryn's amazing photo's, click here – Bryn's photos.
The battle of Ruapekapeka was fought between northern Māori and the British Army during January, 1846, with the British assaulting the Pā on 11 January 1846. The Pā however was largely empty, with Māori having already retreated out the back of the fortification.
The Northern war ended with the loss of Ruapekapeka, with Hone Heke Pokai and Te Ruki Kawati persuaded to sue for peace by Tamati Waka Nene – all three were prominent chiefs of Ngā Puhi. Twelve British Regulars died during the fighting at Ruapekapeka, with twenty Māori also killed, along with 60 wounded, 30 on each side.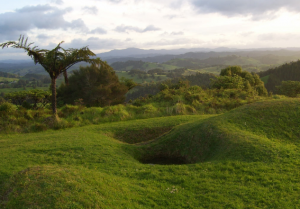 Ruapekapeka has it's own awesome website – to visit the site, click here – RUAPEKAPEKA.
Ruapekapeka Pā is well worth a visit, if you are ever up north; it's an awesome example of the care and effort that local folks can put into the upgrade and protection of such an important NZ Wars battle site.

To read more about the battle fought at Ruapekapeka, see James Cowan, The New Zealand Wars, Volume One, pp.73-87. Alternatively, to see the Northern Wars covered on this site, click here – Northern Wars.