This movie isn't quite a New Zealand Wars movie; in fact, it's set in the 1990s. But it bears a lot of resemblance to the earlier movie UTU, released in 1984. In fact, Crooked Earth seems to be a modern retelling of UTU.
Crooked Earth , released in 2001, was directed by Sam Pilsbury with screenplay by popular New Zealand author Greg McGee. The movie's substantial Māori cultural content was provided by Māori broadcaster and language expert, Waihoroi Shortland.
The movie also showcases some of the best Māori acting talent around these days – Temuera Morrison, Lawrence Makoare, George Henare, Nancy Brunning and Jamie Passier-Armstrong. DJ and broadcasting personality Quinton Hita also appears.
'Then All You Gonna Need is a shovel then eh ..'.
The film concerns a battle of wills between two brothers, one of whom must assume the mantle of family leadership, and with it a substantial greenstone mere, following the death of their father.
The older brother, Will (Morrison) is reluctant. He has been posted overseas with the New Zealand Army. Now dishonourably discharged, he returns home, and wants nothing more than peace and quiet.
The younger brother, Kahu (Makoare) seizes the chance to 'assume the mantle', against the better judgement of the wider community, of which both Will and Kahu are an essential part.
This is because Kahu is driven by rage against Pākehā, and intends to use his newly acquired family leadership as the basis for an attack upon local Treaty negotiations and commercial activities.
The most telling line of the movie is uttered by Kahu, when he meets/confronts brother Will at their father's tangi (funeral). The question is – which brother will now assume the mantle of leadership?
As everyone watches, Kahu picks up the greenstone mere, which represents the mantle of leadership. Will says quietly – 'oh you think you can carry that thing son?'. Kahu replies – 'it's up to you or me bro'. Will replies, 'I came home to bury the old man, not to take his place.'
Kahu then picks up the greenstone mere – 'then all you gonna need is a shovel then eh ..'
It's quite a line .. you can actually watch the whole scene on You Tube – Scene from Crooked Earth.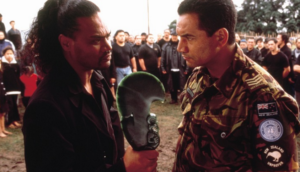 When Will is later prevailed upon to step up, as Kahu starts to run riot, and contest his rightful place as leader (as older brother), then sadly a violent showdown between the brothers, Will and Kahu, becomes inevitable.
Rating out of 10 – 8