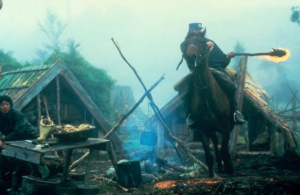 The movie UTU was first released on 27 June 1984. This was an international release, but was generally critiqued as too long and meandering, with, for example, its chief protagonist Te Wheke taking time out to read Shakespeare.  However the movie did have its moments and was received well in New Zealand.
The movie was however recut into a much shorter and crisper version, for international release, in particular using flashbacks to retell its vast and interesting story. Flashbacks don't often work in movies – they slow down the pacing – but, in this new version of UTU, they worked quite well.
UTU was directed by New Zealand Director Geoff Murphy who also wrote the screenplay with actor and writer, Keith Aberdein. The film starred Anzac Wallace and Wi Kuki Kaa as brothers on opposite sides of the colonial divide.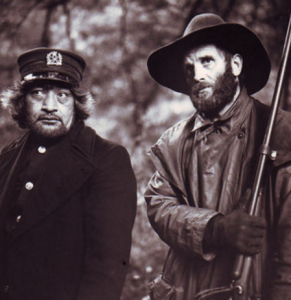 The story is set in the 1870s, as the New Zealand Wars are coming to an end. Te Wheke (played by Wallace) comes upon his home village, shortly after it's been attacked by the Armed Constabulary. Grief stricken, Te Wheke embarks upon a campaign of destruction and murder of Pākehā settlers. The Armed Constabulary is soon on his tail, assisted by his retiring brother, Wiremu (played by Kaa).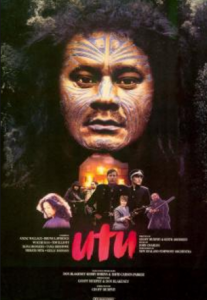 Also assisting the Constabulary, as it hunts Te Wheke through the bush, is settler-farmer Williamson (played by Bruno Lawrence) whose wife has died at the (if, this time, unwitting) hands of Te Wheke.
To read an article by Danny on the UTU movie  – and 'reel history' versus 'real history' – as published in the New Zealand Journal of Media Studies in 1996, plse click on the image (left) of Zac Wallace as the fearsome Te Wheke, as he appears in the said UTU movie.
Rating out of 10 – 9