As with the building of waka and the sponsoring of 'the year of the waka', acknowledging the Treaty of Waitangi was achieved in many different ways during 1990, emphasising once again its centrality within the Sesquentenary celebrations.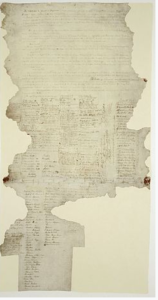 In October, the Alexander Turnbull Library in Wellington mounted an impressive exhibition of artefacts focussing upon the signatories of the Treaty.
The very first complete list of signatories ever compiled was also displayed. This list had been arranged by the missionary Charles Baker at the request of Parliament in 1869; Baker had himself witnessed the Treaty signings at Waitangi in 1840.
Baker had also (as he later wrote) listened to the differences of opinion being expressed by Māori, before the signing, including what he imagined was a scuffle between the two great chiefs, Hone Heke Pokai and Tamati Waka Nene.
In order to compile this exhibition, Turnbull librarians had sought additional artefacts and private materials still being held by Pākehā or Māori descendents of those who had attended any of the 39 signing ceremonies around New Zealand, or better, those who had actually signed.
Such private materials would be added to the Library's own collections of letters, books and manuscripts bearing directly upon the Treaty signing. Over 500 Māori had signed the Treaty, with twenty seven Pākehā witnesses also recorded at the different locations around the country.
Pākehā witnesses had included Governor William Hobson, Resident Agent James Busby, missionaries Henry Williams and Richard Taylor, and James Clendon, who had earlier been appointed as Consul of the United States to New Zealand.